The Sheppie Local, the Surf Champ and the Coach
with Heather Clark
We drove down the South Coast and spoke with South Africa's most decorated woman surfer, Heather Clark.
Riley and I got up early on Saturday and drove the hour and a half down the South Coast to Shelly Beach where Heather Clark and her wife Menize (and their two dogs Biscuit and Fudge) welcomed us for our chat.
As Heather and I settled in, Riley snapped off photos – including the rack of more than a dozen boards – mostly Safari boards sponsored by Spider Murphy.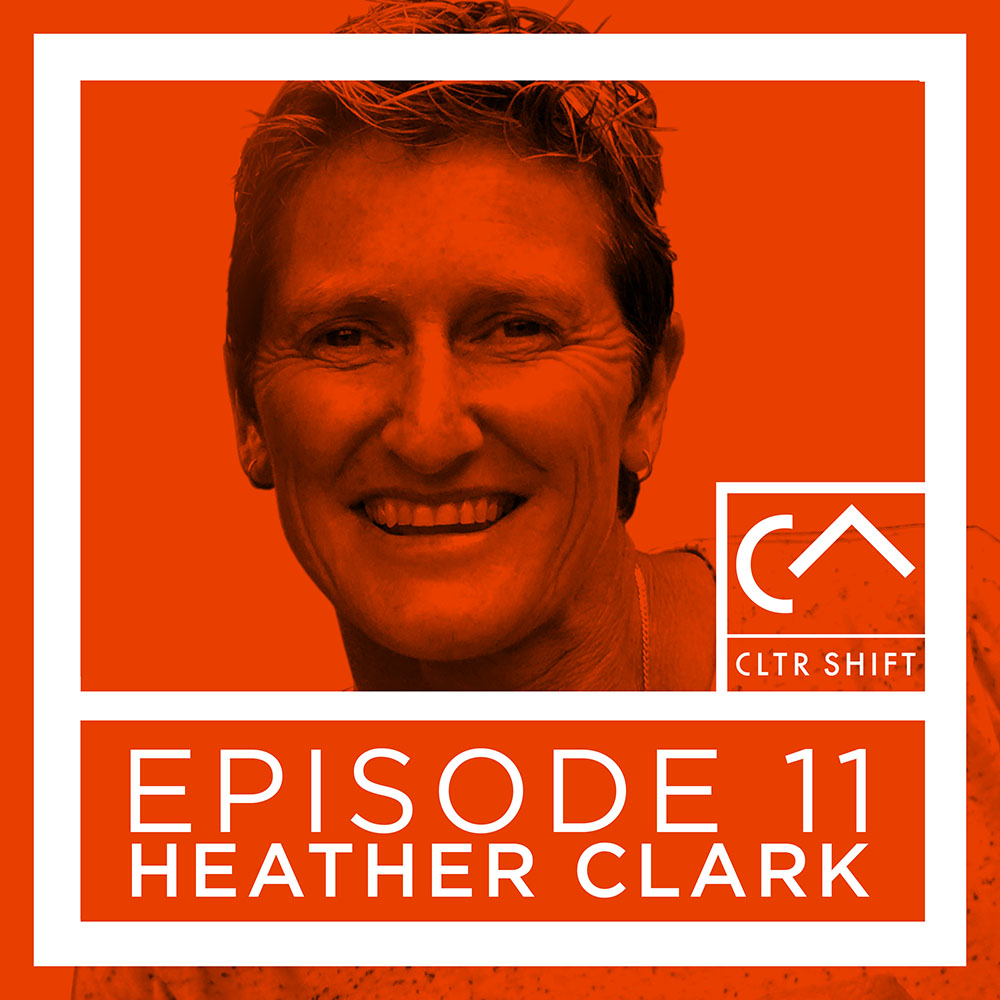 As someone who enjoys the support and encouragement of their partner – in my case Riley and cltrSHIFT to name one of many projects, it was great to hear from Heather how Menize's involvement from admin and social media (and emails) as well as the day to day support and encouragement, allows Heather the chance to focus on surfing and her coaching [and in turn the support needed for her students, young and old, in the water.] So, today, Menize helped out by wrangling the energetic puppies while we had our conversation inside.
Heather took us through her early days on the South Coast and getting involved in surfing with the support of her family, and in particular her father, Dave. Having competed years before, and after taking a hiatus to help raise Heather and her sister, Dave gave 16 year old Heather the support she needed after getting on a board and catching the bug herself. It was Dave's return and Heather's beginning. Heather takes a lot in her stride, it's not a small thing to have been encourage by a parent, especially her father as well as her early coach at the local club to get in the water in a male dominated sport.
"'Just calm down. It's terrible for the other three girls in your heat. It's not only bad for you and perfect for them.' So ever since then, I tell all the kids, if it's ten foot, it's ten foot for all the girls, or all the guys. If it's one foot and onshore it's not 5 foot and perfect for them. Deal with what you've got."
Heather admits that surfing has come a long way, particularly from the early decades in the 60s and 70s where women were definitely discouraged to get on a board and surf alongside the men. Nevertheless, we talked about where surfing is today, and like many professional sports, where something as simple as prize money is a stark reminder of the work that still needs to be done and the perceptions that need to be changed.
It feels like the 1990s were just the other day and that a lot had progressed by then, but Heather was competing against the men in the 1989 Gunston 500 because there was no women's division. That was to only come in 1992.
We also spoke about how it felt being one of the two women on the national team on tour in 1992 when SA was let back into international competitions since being banned during apartheid.
As South Africa's most decorated women surfer, Heather has reached many proud milestones in her career, one of which, the Vans Triple Crown of Surfing, has yet to be achieved by a South African man.
Heather's energy is infectious and her love of salt water and surfing comes through in all she does in her own career and for the sport itself.
She's a bright light on the waves nurturing the next generations, girls and boys, and sharing what she knows and what it takes to be a star in the water (whether socially or in competition) and as a role model of surfing culture from KwaZulu-Natal to the world stage.
It was great to finally meet this surfing legend and I wish I'd had more time to spend with her, but this episode really encapsulates Heather Clark's career and personality. We wish her and Menize all the best for the next phase of the adventure.
"We live to surf. And as long as I can wake up every day and go surfing. I think after surfing, if I can't surf, I might grab a body board. As long as I can be in the water and floating. It keeps you young."